Founded in 1998 Roof Works of Virginia has built a reputation for being an experienced integrator of exterior systems of varying designs and materials. Roof Works will help you make the best choice for your needs and budget.
We are a locally owned Class A contracting company specializing in a variety of residential and commercial roofing applications (maintenance, reinforcement, restoration, and installation). In addition to roofing systems, we also specialize in gutters and siding installation, maintenance & repairs.
We are proud to say our reputation in the community, and word of mouth is our strength.
Because of this, we are able to keep advertising costs to a minimum and pass the saving on to our customers.
With the cost of materials and labor being at an all-time high, Roof Works has a long-time association with a number of national suppliers who support a broad range of brands and products, helping us to keep costs as low as possible.
We carefully estimate every job, quote a reasonable price, and make every effort to minimize interruptions to the daily lives of our customers.
Our employees carry the Select Shingle Roofer and Master Shingle Applicator credentials as granted by CertainTeed.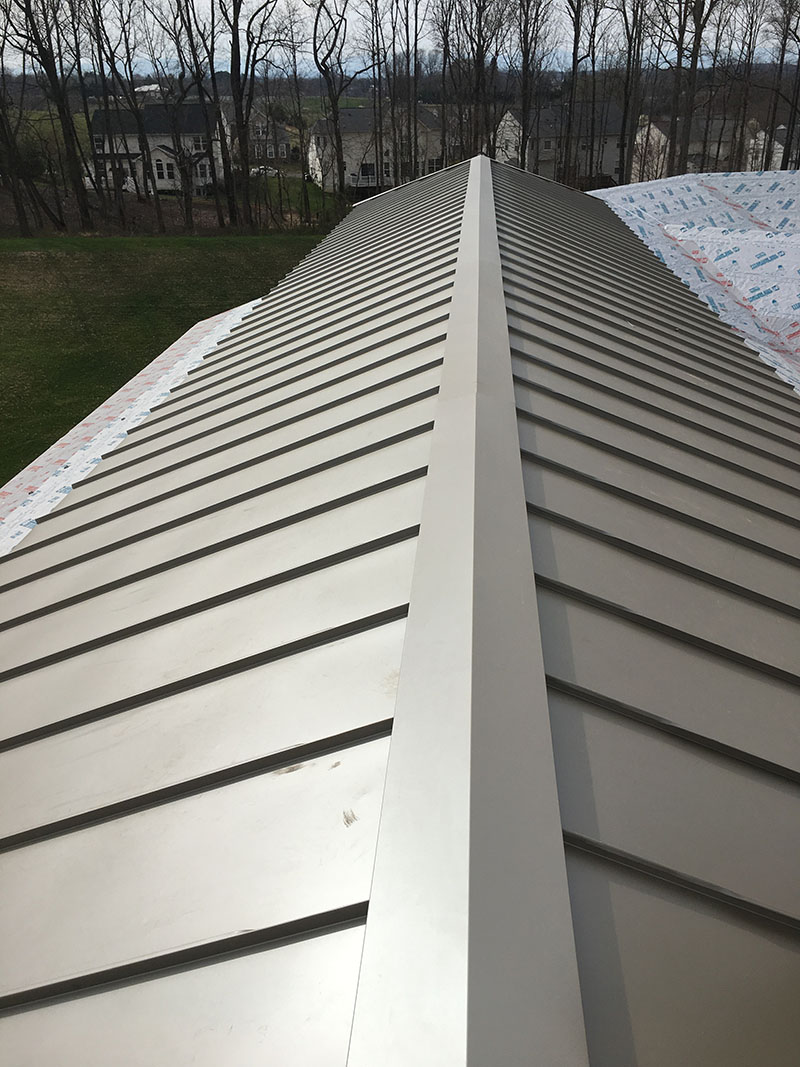 Expert Knowledge, Superior Materials
As your local roofing contractor, we understand the importance of providing comprehensive guidance on all aspects of your roofing needs unique to our area. Whether you are considering a new roof or a roof replacement, our experienced team is here to assist you every step of the way.
When it comes to roofing materials, we pride ourselves on using only the highest quality products that are engineered for exceptional durability and longevity. We offer a wide range of options to suit your specific needs and preferences. For sloped roofs, we utilize asphalt shingles, which provide reliable protection and are available in various styles and colors. Additionally, we also offer other options such as shake, slate, tile, and metals, allowing you to customize your roof to match your desired aesthetic.
For flat roofs, we offer a variety of trusted materials, including modified bitumen products, rubber products, sprayed foam, metals, thermoplastic single-ply membranes, and thermoset single-ply membranes. Each of these materials is carefully selected for its ability to withstand the unique demands of flat roofs and provide long-lasting performance.
We go beyond just using superior materials. We combine our extensive industry knowledge with professional application techniques to ensure that your roof not only meets but exceeds your expectations. We are proud to offer products and services that are guaranteed to last 20, 30, 40, and 50 years, providing you with peace of mind and confidence in the longevity of your investment.
Furthermore, we understand that navigating insurance, warranties, and other roofing considerations can be overwhelming. That's why our dedicated team is here to offer guidance and support throughout the process. We will provide you with transparent information on new roof costs, insurance coverage, warranty options, and what to expect during the roof replacement process.
With Roof Works of Virginia Inc., you can trust that your roofing project is in capable hands. Our commitment to using high-quality materials, industry best practices, and providing exceptional services ensures that your roof will withstand harsh weather conditions and stand the test of time. Contact us today at 540-786-4552 to schedule a consultation and experience the difference of our superior roofing solutions.
Our company is licensed, insured, and a member of the Better Business Bureau (BBB), National Association of Home Builders (NAHB), and the Fredericksburg Area Builders Association (FABA). Our employees carry the Select Shingle Roofer and Master Shingle Applicator credentials as granted by CertainTeed.
Over 25 years of service to our community.
Contact us today:
540-786-4552
Monday-Friday 9:00 AM – 4:00 PM
We service Fredericksburg, Spotsylvania, Stafford, Culpeper, Orange, King George, Caroline, Fauquier, and Surrounding Counties.
Privacy Statement: Roof Works of Virginia Inc. does not collect customer information for disclosure to third parties.